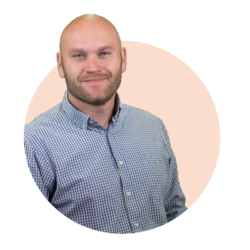 Jake Gower
Jake is Curate's Director of Consults and has spent his career focused on helping businesses achieve their growth targets. He's experienced in revenue growth planning, designing and executing enterprise sales strategies, building high-powered teams, and empowering those teams to exceed expectations.
After graduating with a Bachelor of Science in Business Administration, Jake progressed in various sales and strategic management roles in nearly 10 years with AT&T. Eventually being drawn to start-ups and nonprofits, Jake now works with high-potential growth organizations to help them formulate and execute revenue growth plans.
When asked what his professional passion truly is – Jake will answer "Coaching and People Development". His greatest professional pleasure has been witnessing the growth of those on his team as they continue to progress professionally.
His advice to event professionals?
"Don't underestimate the power of creating goals and processes that will support those goals. Goals are a simple idea, easy to wrap your head around; but implementing systems and teams that support those goals can be challenging. However, those systems and teams can be the difference in coming up short or exceeding those goals."
Meet more of our amazing team